High Sun Low Moon Herbal Smoke Blend-Loose Leaf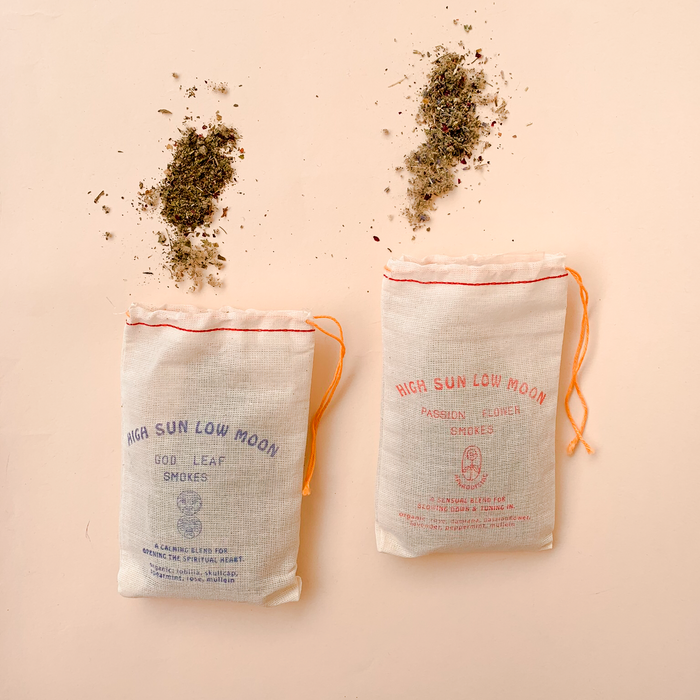 High Sun Low Moon Ritual Loose Leaf smoking blend made with 100% organic herbs to roll your own.  Rolls roughly 20-25 full smokes per pouch.
Two Blends Available: 
The God Leaf herbal smoke blend is cooling, calming, and great for social situations.  It has properties to help with anxiety and the nervous system. 

100% Organic Ingredients: Lobelia, Skullcap, Spearmint, Rose, Mullein
The Passion Flower herbal smoke blend is a floral aphrodisiac created for pleasure and sensuality.
100% Organic Ingredients: Rose, Damiana, Passion Flower, Lavender, Peppermint, and Mullein.
*All herbs are 100% organic 
 You should not smoke anything while pregnant or breastfeeding.
Herbal Smokes are intended for use by individuals 18 years or older. By purchasing this product, you are agreeing to the following:
-That you are of legal age in your state or county to purchase herbal smoking products.
-You agree to use this product for its intended purpose only.
Note: We are unable to ship this product to Louisiana.
Shelf-life of 6 months