Crosby Soy Candles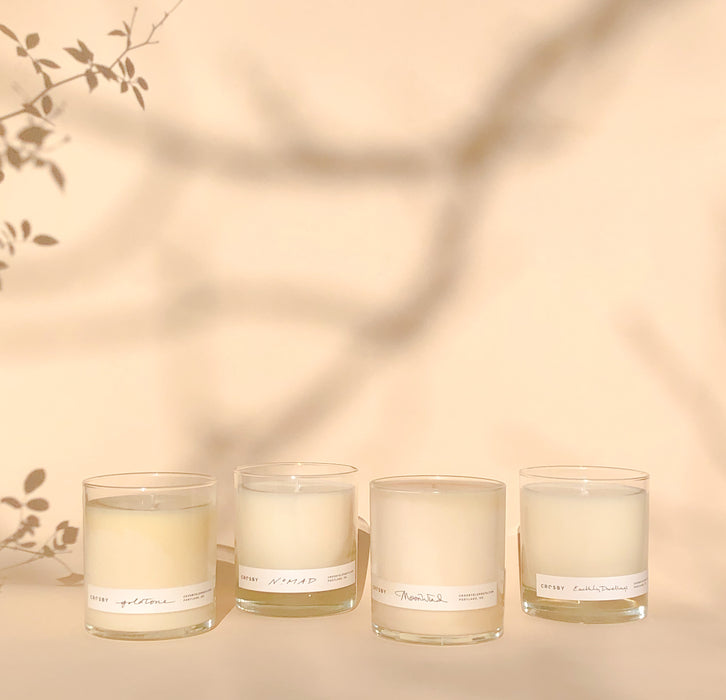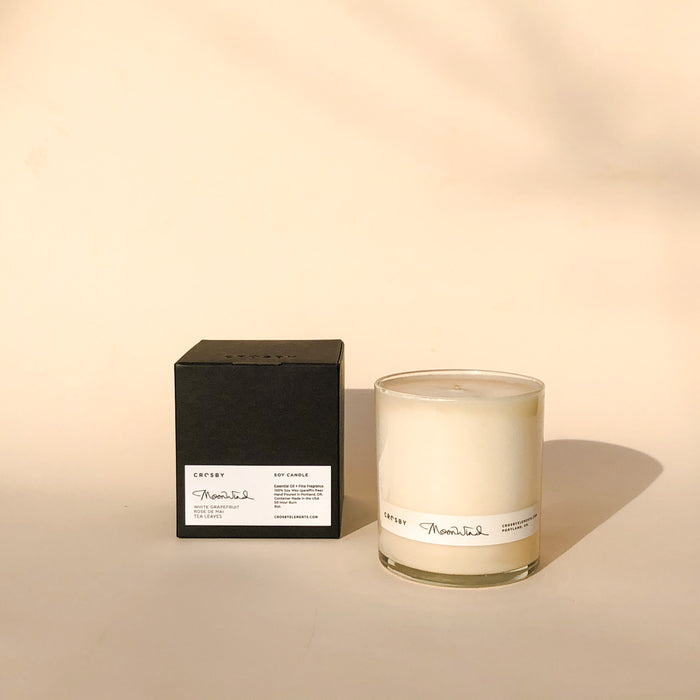 Crosby Soy Candles are available in four lovely scents: Goldtone, Nomad, Earthly Dwellings, and Moonwind.
All Crosby Candles are made with a lead-free Cotton Wick, 100% American-grown Soy Wax (paraffin-free), and Essential Oil + Fine Fragrance.
Hand Blown Glass vessel is Made in the USA. 
UPDATE: All Crosby Candles now come in clear glass vessels. Nomad and Earthly Dwellings are no longer are with a amber vessel.
50+ Hour Burn
GOLDTONE- Sunscreen, sex wax, salty hair and sun-kissed skin. Goldtone triggers flashbacks of summers spent surfing in Mexico and Southern California—is there anything better?
Key Notes: COCONUT MILK – SPEARMINT – AMBER
Supported By: Ginger and Patchouli
NOMAD-Nomad drops you into a quintessential Pacific Northwest summer spent camping in the woods. Hold onto that lingering, smokey-clothing scent until you head back into the city.

Key Notes: BURNT CEDAR – FIR NEEDLE – TOBACCO
Supported By: Soil, Himalayan Cedarwood, Pine
EARTHY DWELLINGS- Wild sage, dried wood, Juniper trees and rolling grass hills. Earthly Dwellings embodies the spirit of where the high desert meets the prairie. A scent that make us want to hit the road and never come back.
 Key Notes: SANDALWOOD – WHITE SAGE – LEATHER
Supported By: Dirt, Grass, Juniper Berry and Cypress
MOONWIND- The Divine Feminine or like the Moon herself - complex, mysterious, sensual, illuminating, strong yet vulnerable with a dash of Stevie Nicks for good measure.
Key Notes: WHITE GRAPEFRUIT - ROSE DE MAI - TEA LEAVES
Supported By: Hemp, Cedarwood, Lilac, Patchouli, Smoked Vanilla

NORWOOD (seasonal)- Imagine yourself nestled on your grandfather's old leather chair, a cup of warm spiced tea, gazing out the window at the snow-tipped forest surrounding you. Norwood captures all that we look forward to in this colder season.
Key Notes: BLACK SPRUCE – CARDAMOM – FERN
Supported By: Black Pine, Wild Mint, Clove, Fraiser Fir, Cedarwood