Fat and the Moon Deodorant Cream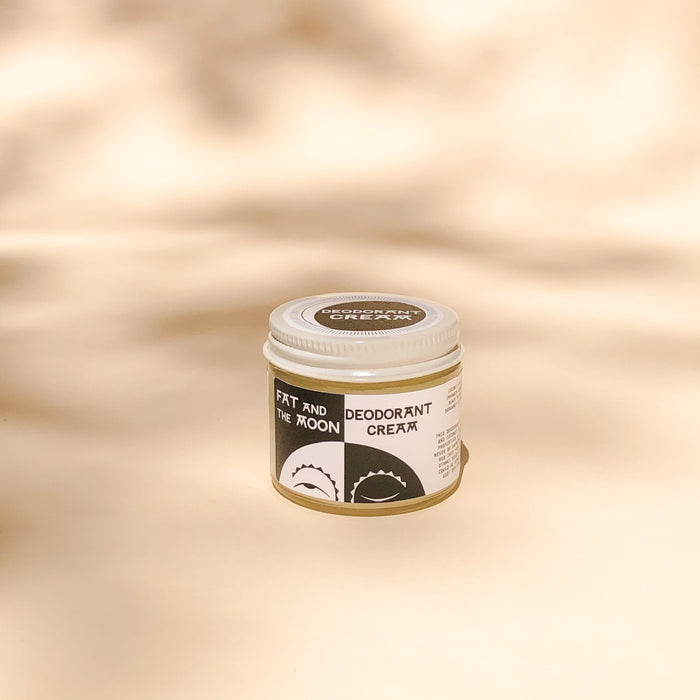 Fat and the Moon's Deodorant Cream is non-toxic and really does the job for odor protection.  The coconut oil and aluminum-FREE baking soda base are a bacteria checking dynamic duo. Mixed with the moisture absorbing properties of Arrowroot and the antimicrobial properties of the essential oils, you and your armpits will never be happier! The scent starts with a lovely harmony of Black Pepper, Bergamot and a hint of citrus with a base of Clary Sage. The scent is light enough that it won't compete with another fragrance. 
 How to Use: Use a pea-sized amount to apply to both armpits. 
If you're finding yourself getting itchy from the Deodorant Cream, you might have a sensitivity to baking soda. Fat and the Moon also makes a baking soda free Sensitive Deodorant Cream available here. 
Ingredients: Coconut Oil (Cocos nucifera)* Baking Soda Arrowroot Powder (Maranta arundinacea)* Beeswax (Cera alba) Essential Oil of Black Pepper (Piper nigrum)* Essential Oil of Clary Sage (Salvia sclarea)* Essential Oil of Bergamot (Citrus bergamia)* Essential Oil of Tea Tree (Melaleuca alternifolia)* Essential Oil of Grapefruit (Citrus paradisi)* *Organic