All Seeing Eye Cream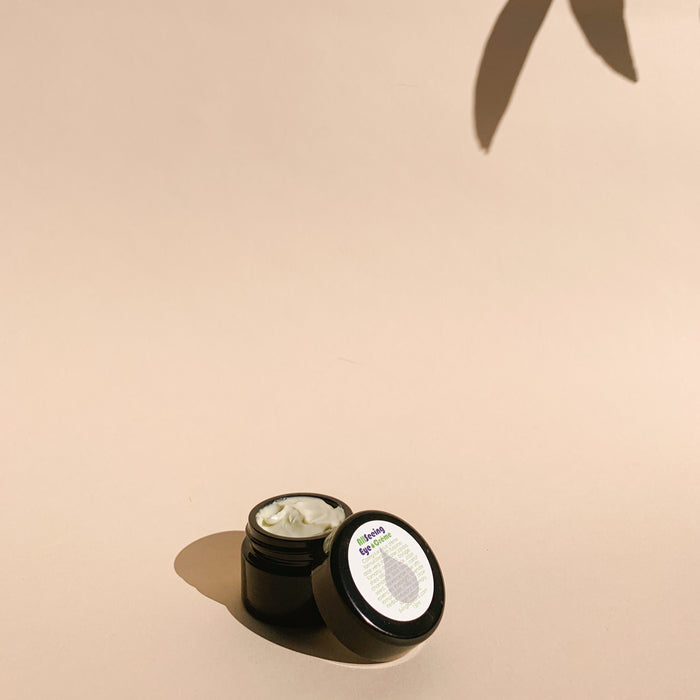 This thick, rich, luxurious crème that effortlessly sinks into skin and is specially formulated to nourish the tender skin around the eyes. All Seeing Eye Crème is made by whipping herb-infused Jojoba, Tamanu, Shea, Borage, and Avocado oils with refreshing Rosewater and Aloe Vera. Soothes and nourishes the delicate skin around the eyes. Great for dry skin, wrinkles, and fine lines. Perfect under make-up or as a nightime treatment. 
Size: 15ml or 5ml
Organic Ingredients: Aloe (Aloe Vera), Rosa damascena (Rosewater Hydrosol), Simmondsia chinensis (Golden Jojoba), Calophyllum inophyllum(Tamanu Oil), Persea americana (Avocado) Oil, Borago officinalis (Borage),Butyrospermum parkii (Shea Butter), Citrus aurantium (Orange Wax),Eriocephalus punctulatus (Cape Chamomile), Tanacetum annuum (Blue Tansy), Daucus carota (Carrot Seed), Boswellia carteri (Frankincense), Rosa damascene (Rose Otto), Euphrasia (Eyebright), Lavandula angustifolia(Lavender), Melissa officinalis (Lemon Balm), Avena sativa (Milky Oat Straw),Rosmarinus officinalis (Rosemary) and Salvia officinalis (Sage) CO2 Extracts.