Moisture Riser Cream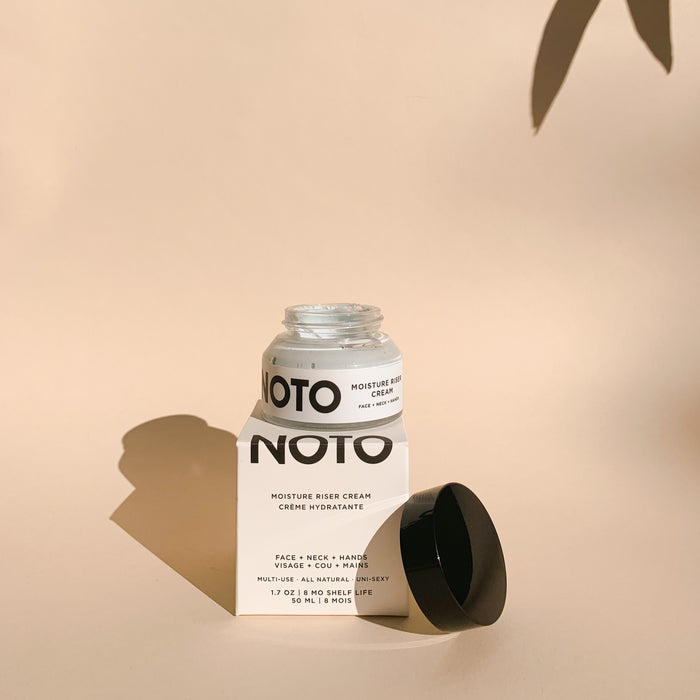 A powerful yet lightweight hyaluronic acid moisturizer cream that even the most sensitive of skin will love. Moisture Riser Cream will help your skin glow with hydration and revitalize your skin's outer layers by looking and feeling softer, more plump and nourished.  Powerful oils of Blue Tansy, Marula, Rose Geranium, Clary Sage, and Carrot Seed may act as a calming vitamin pack of restoration to add in preventative measures for the long run.  Organic wild harvested Blue Green Algae is laced in to add a full spectrum of minerals, chlorophyll, B Vitamins, Beta-Carotene, and Pro Vitamin A.  
Tip: Keep Moisture Riser Cream in the fridge to add an extra cooling and de-puffing finish. Use alone or start a luxe Noto ritual with Noto's Resurface Scrub, then Noto's Deep Serum, followed by Moisture Riser Cream. Add a bit extra and leave on for a plumping and hydrating face mask. 
Ingredients: Water (Aqua), Organic Coconut Oil (Cocos Nucifera), Grapeseed Oil (Vitis Vinifera), Hyaluronic Acid ( Sodium hyaluronate ), Blue Tansy ( Tanacetum annum oil), Marula Oil ( Sclerocarya Birrea Seed Oil) Clary Sage (Salvia Sclarea Oil),  Rose Geranium (Pelargonium roseum x asperum), Carrot Seed Oil (Daucus carota sativa seed oil), Blue Green Algae Tincture (Aqua, Organic Alcohol, Organic Aphanizomenon flos aquae (Organic Blue Green Algae) Extract),  emulsifying wax (cetyl alcohol, stearyl alcohol, polysorbate 60), stearic acid, glycerin, xanthan gum, less than 1% phenoxyethanol, tetrasodium glutamate diacetate